---
PCI Announces 2020 Board of Directors and Executive Officers
LAKEWOOD RANCH, FL., February 6, 2020 - Effective January 1, 2020, the Powder Coating Institute (PCI) proudly recognizes its 2020 Board of Directors and Executive Officers.  PCI is very fortunate to have the leadership of the following individuals:
President: Suresh Patel, sales director – Chemetall Mexico, BASF/Chemetall US Inc.
Vice President: Sue Ivancic, value added services coordinator, Nordson Corporation
Secretary/Treasurer: Chris Merritt, general manager, Gema USA
Past President: John Sudges, sales manager, Midwest Finishing Systems Inc.
 PCI Interim Executive Director Sheila LaMothe remarks, "We would like to welcome our newly elected board member, Marty Korecky, business specialist – business systems, AkzoNobel Powder Coatings. This is Marty's first term of service on the PCI board. However, he has been active in the association for many years, serving on the education and technical committees as the current vice chair of the regulatory and advocacy committee, and is actively involved in updating PCI educational materials. We sincerely appreciate Marty's commitment to serve our industry in this new capacity and know the board will benefit from his diverse experience."
 In addition to the new board member and officers, serving on the Board of Directors for 2020 are: John Cole, president, Parker Ionics; Ron Cudzilo, regional sales manager, George Koch Sons, LLC; Rick Gehman, president, Keystone Koatings LLC; Tom Whalen, vice president sales & marketing, TCI Powder Coatings; Shelley Verdun, business manager PPG powder coatings, PPG Industries; Paul West, director of marketing, Sun Polymers International, Inc. and PCI Legal Counsel, David Goch, partner, Webster, Chamberlain & Bean. Their dedication to this organization benefits the powder coating industry on every level.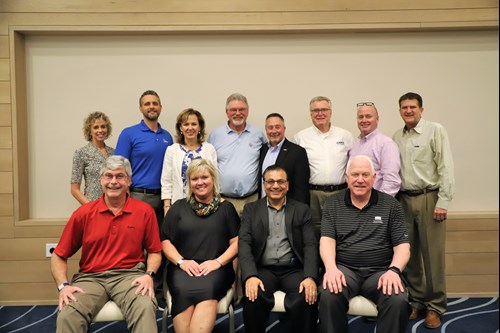 PCI's 2020 Board of Directors, Pictured front row, left to right: PCI Officers, Chris Merritt, Sue Ivancic, Suresh Patel and John Sudges. Back row, left to right: Sheila LaMothe, PCI Interim Executive Director, Rick Gehman, Shelley Verdun, John Cole, Marty Korecky, Ron Cudzilo, Tom Whalen and Paul West.
About the Powder Coating Institute                                                                    
Formed on May 1, 1981 as a non-profit organization, the Powder Coating Institute (PCI), represents the powder coating industry, promotes powder coating technology and communicates the benefits of powder coating to manufacturers, consumers, and government.  PCI works to advance the utilization of powder coating as an economical, non-polluting and high-quality finish for industrial and consumer products. For more information, visit www.powdercoating.org.