TruXpress Rapid Response Program
The TruXpress Rapid Response Small Batch Program is TCI's response to our ever increasing need for speed, efficiency, and immediacy. Our manufacturing facility, that was created exclusively for small batch, custom match powder coat orders, includes multiple lines that can process batches as small as 55 pounds, allowing us to deliver the fastest turnaround times in the industry.
Our investment in the TruXpress framework ensures that we can provide rapid, accurate service, and high quality that consistently meets demanding lead times.
The TruXpress service is available for all solid colors, super durables, AAMA 2603, 2604, and 2605 Colors, as well as some textures.
Download the TruXpress Flyer (pdf).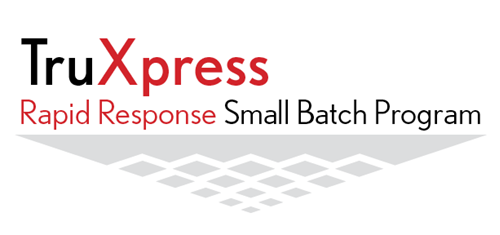 TruXpress is available for the following products and surface finishes:
Standard-durable solid colors
Super-durable solid colors
AAMA 2603, 2604 & 2605 solid colors
Standard micro textures
TruXpress will match to a color tolerance of 1.0 DE and within a gloss spec of plus or minus 5%.
Exceptions are multi-color, bonded powder coatings, some metallics and difficult to match colors.
Packaging minimum for TruXpress custom color matching service is 55 lbs.